---
Below guide will teach you How to Replace an Air Filter . Please follow the instructions carefully.
Things You'll Need:
Screwdriver
Socket and Ratchet Set
Air Filter
Estimated Costs:
DIY Costs: Est. $12.52 parts only
Shop Costs: Est. $46.39 parts and labor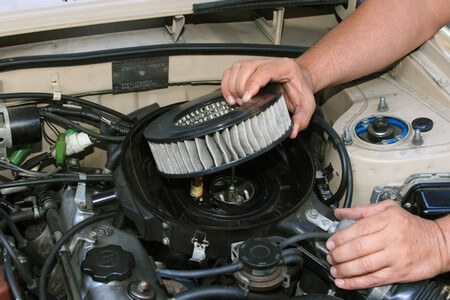 Instructions:
Park the vehicle on a level surface and prop the engine hood up.
Look for the air filter box in the engine compartment.
Unclamp the clips and take the mounting screws off from the air filter box cover.
Remove the cover from the filter box and take out the air filter. For reference purpose, note the position of the air filter in the box.
Thoroughly clean the filter box and remove any dust, dirt or other debris from it. Using compressed air for cleaning is not recommended for air filter box.
Put the new air filter in the filter box in same position as old filter was positioned.
Put the cover back onto the filter box and secure the cover with clips and mounting screws.
Make certain that all the connection from air intake and vacuum hoses are properly installed.
---
Related Posts