---
You must have remembered the TranStar Dagger GT. The Dagger GT has radically treated by the world's best car maker. They have updated the specs on their official website claiming that the 2700 hp version of Dagger is able to gain a top speed of 315 mph (500 km/h).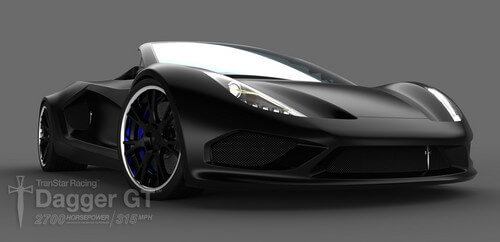 It is somehow hard to believe this report because up till now they had not kept their promise of introducing 2500 hp version nor even 2000 hp yet. We won't believe until they show up the class.
We are so curious about this 2700 hp Dagger and really hope that the TranStar will reveal it with the disclosed specs to make it a proper hyper vehicle rather than a mere dragster. Only in this way they can show the top automakers like McLaren, Bugatti, Ferrari which are yet to make 1000 hp version that how talented and capable team they have under their shed.
Following are given the specs disclosed by TranStar on their website:
Custom-hand made specifications
Two engine choices: Streetable 427 twin turbo and custom 2000 hp 427 racing. A 2700 hp polished aluminum 632 Dart big unit with twin Turbonetics turbos, multi-fuel injection featuring race and pump gas/octane-on-demand
An optional 50 state legal 650 hp engine
An optional hybrid-electric and 600 hp all-electric engine
Custom-made 2700 hp and 2300 lb-ft (torque) 6-speed TranStar Racing aluminum cased 300M steel transaxle clutch and gearbox by Mendeola Transaxle.
Aluminum-based dual intercoolers and 4 radiators
Carbon Fiber composite space-age body
Kevlar Monocoque frame made of aluminum and carbon fiber
Custom paint and interior by After FX Customs
High quality biometric security system
Electronic wiring system by award-wining ISIS
MoTec engine management system
9-inch touch-screen and voice-actuated computer monitor
3 rearview cameras featuring night vision
4-inch, 4 sculpted exhausts
Styling by Ivan Luccion and Tom Van Ryn
375 mm wide tires on rear
A drag package designed similar to the traction mechanics of Pro Stock 200 mph dragster as option
300 mph land speed safety package available as an option
Road racing package available as an option
For landspeed, drag and road racing, three optional rear wings available
Sport, Super Sport and Luxury are three street models while Drag, Landspeed and Road Racing are racing models
Also available cock-pit adjustable suspension settings and ride-height adjustments alogn with cock-pit adjustable traction control and electric cutouts.
Performance Goals:
The vehicle has achieved a top speed of 315 mph with landspeed safety package.
Keep a 280 mph of standing mile record
Covered a distance of quarter a mile at 205 mph with drag package
Also keep a 6.6 seconds quarter mile record
Sprints from 0-60 mph in 1.2 seconds
Holds a VIR Grand Course Lap Record and a Nurburgring Lap Record
Other performance goals include Slalom record, 0-60-0 record, and Lap Records at Talladega, Daytona and Indianapolis Raceways.
---
Further Reading