---
It has been decided by Volkswagen that from 2012 onwards it will offer Amarok pickup truck with an 8-speed automatic transmission.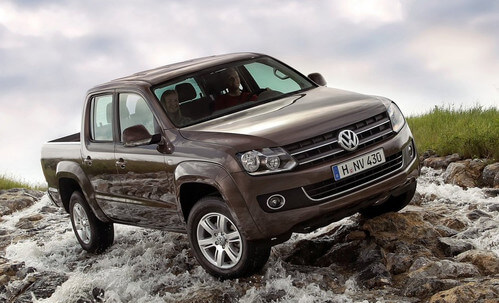 By doing so, Volkswagen doesn't actually boast off rather making their vehicle an example of sheer power and performance. It not only adds performance to the car but also brings some economical benefits as well. If we talk about this technology in reference with Amarok, it together with BlueMotion Technology will not only enhanced off-road skills, but also offers comfortable riding experience. Furthermore, it will offer economical fuel consumption as compared to the model equipped with manual gearbox.
The 2012 Amarok will come with a new 132 kW (180 PS) 2.0-L bi-turbo TDI engine mated to 8-speed automatic transmission. It will be offered with a permanent all-wheel drive system. The 2012 Amarok with 8-speed transmission will achieve 7.6 liters per 100 km and 199g/km of CO2 emission. As far as eighth gear is concerned, it is setup as a fuel-saving overdrive gear that will operate at reduced engine speed.
It is completely absurd to check the performance of a diesel-powered truck on 0-100km/h basis. All it need is superior in-gear acceleration. The Amarok achieves 80-120 km/h in about 8.5 seconds and reaches the maximum speed of 179 km/h.
Another advantage that is brought to Amarok with this new 8-speed automatic gearbox is its increased towing capacity which has increased to 3.2 metric tons.
---
Further Reading