---
Infiniti G37 or Work Car Zero is in fact a safety car. This car is a clear indication of Infiniti's preparation for the 2011 Spain Rally Championship Season. Infiniti is not only pacing the rally cars for the season but also accountable for providing safety cars for GT Championship of Spain.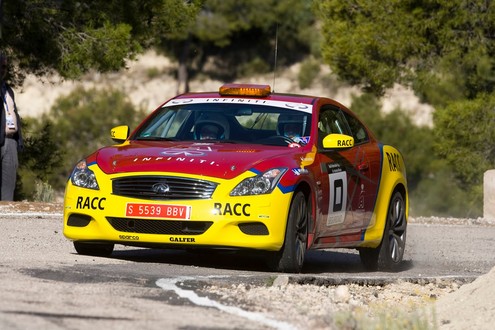 It is basically a G37 Coupe with six-speed manual gearbox that is equipped with an aluminum sic-cylinder engine capable of generating 320 HP and torque of 360Nm. The engine is mated to a standard limited slip differential.
If we look at the car closely, we come to know that it is almost with standard specifications with a minor tweaks such as installation of roll bar by VIMESA, Bilstein dampers, outdoor light and siren, brake pads, brake liquid by GALFER, SPARCO racing seats and seatbelts, a fire-extinguishing system, communication equipment, GPS, and Michelin high performance Pilot SuperSport tires.
The car is prepared for the World TT Champion, Marc Blazquez who drives for Nissan along with Salvador Belzunces who serve as a co-pilot with the Blazquenz.
---
Related Posts