---
Peugeot has announced the lineup that is aiming to bring at 2011 Shanghai Auto Show. Among the lineup, there is a stunning new crossover concept car named SXC.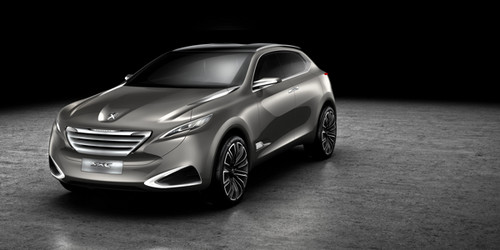 Peugeot Style Studios of the China Tech Center, Shanghai are accountable for the design and production of SXC Concept. Most importantly, team has got the design inspiration from the French cars such as the SR1 Roadster and the EX1 two-seater.
This city crossover is 4.870 m in length, 1.610 m in height and 2.035 m in width. Though, its design gives you a feel of SUV, it is as convenient as a sedan. The car features floating grille, feline headlamps, a luminous LED 'signature' recognizable in both day and night, 'boomerang' shaped taillights, 22-inch wheels, reverse-hinged doors, and a two-part panoramic roof.
Apparently, SXC Concept is a Hybrid car which gets a Peugeot's Hybrid4 technology along with an internal combustion engine at the front that spins the front wheels and an electric motor at the rear that spins the rear wheels. The benefit of this technology is that you can operate on all the wheels when both engine and electric motor are functional that really become handy in severe road conditions. This technology also offers zero emission even while driving on low speeds.
The system is powered by a 1.6-L THP petrol engine capable of delivering 218 bhp mated to a 95 bhp electric motor and both together delivers 313 bhp. It returns 48.7 mpg and 143g/km of CO2 emission.
We are little skeptical here whether this SXC Concept will go on production or not as many of the concept models from Peugeot never went for production.
Peugeot at 2011 Auto Shanghai:
Peugeot plans to launch at least one new model per year in China in the coming years, reinforcing its presence in the world's largest car market. At the Auto Shanghai 2011, Peugeot is launching the Peugeot 508 onto the Chinese market and showcasing a new cutting edge concept car, 100% designed in China – the SXC.

The Peugeot 508 which goes on sale in the UK later this month, just a month and a half after the launch in mainland Europe, is already being hailed as a success with orders exceeding sales objectives by 20%. Now the Peugeot 508, which has also been developed for the Chinese market, will be receiving its public launch at the Auto Shanghai 2011.

The Peugeot 508 joins a host of other new Peugeot models that have recently been launched onto the Chinese market. Peugeot 207 (hatchback and sedan), 207 CC, 308 CC, 308 SW, 408, 3008, and very soon the Peugeot RCZ.

Peugeot's sales objective in China for 2011 is to sell 200,000 vehicles.

Also in China next week, Peugeot will unveil a concept car which has been totally designed and developed by Peugeot's Chinese Tech Centre in Shanghai.
---
Related Posts