---
It seems that the BMW Z4 Roadster becomes the first model that is powered with four-cylinder engine appears in the United States. In US, it will be known as Z4 sDrive28i.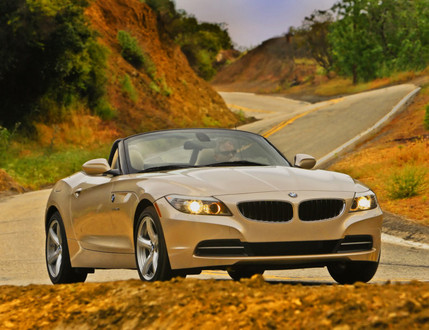 It was in February when we heard the news that BMW is bringing four-cylinder vehicles back to America along with 2.0-L TwinPower Turbo 4-Cylinder units. These models will be available for sale by Fall 2011 and these 240 HP and torque of 260lb-ft engine will generate the same power as that of 3.0-L straight six and that too with 20 percent of better fuel efficiency.
BMW said that the details and pricing plan for the Z4 sDrive28i will be disclosed later sometime, however, following are given the technical details of how this twin-scroll turbo four-banger actually operates:
The 4-cylinder engine with its all-aluminum crankcase is lighter and more compact than a 6-cylinder engine of equivalent power. The turbocharger is a twin-scroll system. The exhaust streams leaving the two pairs of cylinders are kept completely separate as they flow through the exhaust manifold and the turbocharger, taking a spiral path to the turbine wheel. This configuration results in very low exhaust back pressure at low engine rpm, and allows the energy of the exhaust gas pulses to be optimally managed and translated into powerful rotation of the turbine blades, without a delay in throttle response.

The patented BMW VALVETRONIC system with seamlessly variable intake valve lift control dispenses with the throttle valve system typical of conventional engines. Instead, combustion air mass is controlled inside the engine, resulting in much faster response. Pumping losses are kept to a minimum, making the engine more efficient. The High Precision Injection direct-injection system also helps to improve efficiency.

Centrally positioned between the valves, solenoid injectors with a maximum injection pressure of 200 bar (2,900 psi) precisely control the supply of fuel. The fuel is injected very close to the spark plug, resulting in clean and homogeneous combustion.
---
Related Posts