---
Subaru has recently unveiled the pictures and specs of the Subaru XV Concept. This new concept car from Japanese car maker will appear at 2011 Shanghai Auto Show.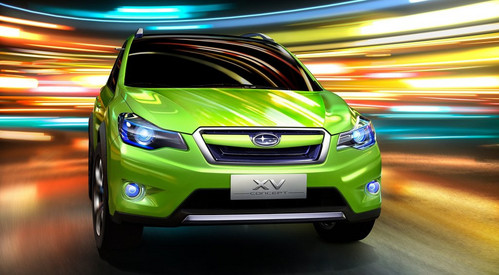 The XV Concept is a compact stylish car and it is likely to be a 4×4 car as it is based on the Subaru's rally-proven drivetrain which almost used in all the models of Subaru. The main idea behind bringing this car to show is to show people its design as no final specifications are confirmed by the company yet. Interesting fact about this car is its design theme 'Protren' as they called it. What they told us that the term 'Protern' is taken from: Pro from 'Professional Tools' and Tren from 'Trendy Design'. Impressive! Isn't it?
Subaru said XV is solid, dynamic, stylish, trendy and much more. The car is certainly has a lot to boast about except for its awful 'Electro Yellowgreen' color. Let us have a look at the interior of the car where it gets Silvery White leather for seats, sporty mesh in selected areas, and yellowgreen piping. The car shows off three different displays, one for navigation, one for car audio and one for vehicle information that features touch panel technology. Besides these, the car also includes a Subaru's advanced driving assistance system called EyeSight.
This Subaru XV Concept comes with 2.0-L four cylinder Horizontally-Opposed DOHC engine coupled with a Lineartronic CVT gearbox. The whole structure of the car is supported by 19-inch aluminum alloy wheels along with 245/45 ZR19 tires.
---
Related Posts