---
Yes, that's a real racing car which is going to participate in this years Le Mans 24 Hours designed by DeltaWing. The original concept of this car came from an Indy car but later on DeltaWing in collaboration with 'Project 56 Partners' converted it into a super, high-tech racing monster.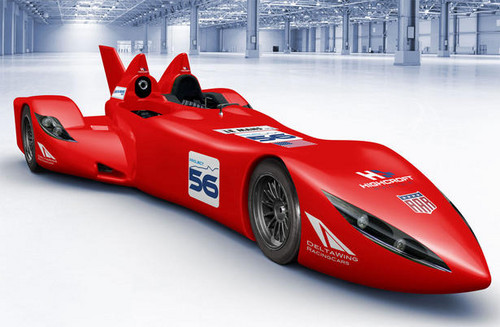 The Project 56 group includes Dan Gurney's All American Racers, Dr. Don Panoz and Highcroft Racing.Former engineer of Lola, Ben Bowlby is the designer of this machine. The only problem with this car is that it doesn't fit in any class at Le Mans. It will have to race in a category of its own.
"The Automobile Club de l'Ouest (ACO) has shown great vision in creating an opportunity for an innovative and experimental vehicle such as the DeltaWing to participate 'outside the classifications' in this famous event. The race has a long and glorious history, featuring the most advanced and technologically relevant racing cars. We are thrilled to have been invited to join the list of innovators and to honor the Spirit of Le Mans," said Ben Bowlby.
Key Specifications (estimated)
Weight with driver: 1,030 lbs.
Horsepower: 300 BHP
Wheel base: 125 inches
Front track: 24 inches
Rear track: 70 inches
Aerodynamic drag: Cd 0.24
Key Technical features
Engine and transmission are "non-stressed members" of the chassis structural design which allows teams to install a wide variety of lightweight powertrains
The prototype will feature a 4 cylinder turbo charged engine that will produce approximately 300 horsepower at 7,000 rpm and weigh only 160lbs fully dressed
Engine capacity, RPM and configuration freedoms are anticipated given only that the rate of fuel delivery to the engine will be controlled by a specially developed fuel flow rate control unit
Vehicle weight distribution is necessarily more rearward than traditionally seen with 72.5% of the mass on the larger rear tires
80% of the aerodynamic downforce acts on the rear of the car
Inline traction under acceleration through the rear tires is greatly enhanced by rearward weight and aerodynamic distributions
Unique amongst today's racing cars 60% of braking force is generated behind the center of gravity giving a dynamically stable response
Locking propensity of the inside front wheel on corner entry is greatly reduced
Transmission features 6 speed oval and 5 speed plus reverse road track configurations with sequential paddle shift actuation
Differential features full torque vectoring active technology with driver control of gain for balance adjustment. "Active stagger" removes the expensive necessity for staggered rear tire diameters for ovals
Advanced computer modeling of structures, impact energy management, aerodynamics, vehicle dynamics and tires has been used to develop the virtual DeltaWing car
The car's performance has been simulated on each configuration of race track
Modern advanced materials and CNC construction techniques applied to achieve gains in light weight structures and occupant safety
Driver position, restraint layout and energy absorbency facility designed with the latest data on survival criteria
---
Further Reading