---
Well more and more sketched from the Audi justify our point that Audi is now in the obsession of revealing sketches for its new models. Yet again they have revealed the sketches for the new GT version of the R8 Spyder. This vehicle will make its world debut at 2011 International Auto Show, Germany.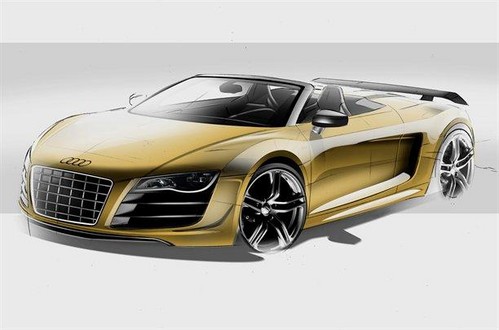 The forthcoming model of Spyder is similar to the R8 GT coupe which means that new R8 GT will also be lighter, powerful, and more track-focused version. The R8 GT Spyder will also be powered by 5.2-L V10 engine capable of generating 552 HP and torque of 398lb-ft. This new R8 GT Spyder will be faster than the current R8 Spyder as it weighs 95 kg less, however, it will be 6 mph slower than the Coupe GT. The drivetrain will also remain the same for new version, 6-speed R-tronic gearbox and Quattro system.
Apart from the performance, the R8 GT Spyder will certainly be a stunner as far as what sketches suggest. However, the majority of the race bits for this new version remain the same including front splitter, rear wing, and diffuser as we have seen on Coupe.
The R8 GT Spyder will give its advance performance at Le Mans 24-hour race in the June.
---
Related Posts