---
Recently, Rolls Royce has revealed its lineup for the 2011 Shanghai Auto Show. This lineup contains a new Ghost Extended Wheelbase.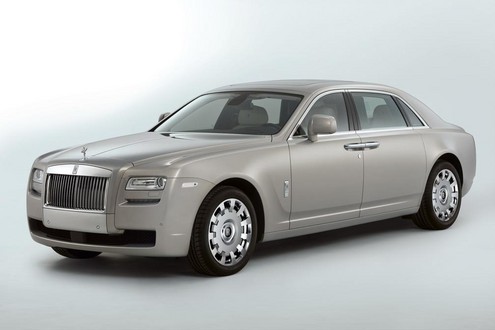 Unlike the standard models, the new Ghost Extended Wheelbase is 170 mm longer in length. This extended wheelbase now offers more leg and knee space than the standard Ghost models. This extended wheelbase also complemented with a panoramic sunroof that make this new Ghost more like a limousine particularly for those who cannot purchase Phantom.
The only thing that make is different from the Standard Ghost is its extended wheelbase and rest remains the same. The car is powered by 6.6-L twin-turbo charged V12 engine that is capable of generating 563 HP and torque of 780 Nm per 1500 rpm. The car sprints from 0 to 100 km in just five seconds. To achieve balance and smooth handling, an impressive four corner air suspension is introduced in the Ghost Extended Wheelbase.
The company said that only limited number of this car will go into production in 2011 depending on the order, however, it will officially go into production in 2012.
On the unveiling of the new car, CEO Torsten Müller-Ötvös said, "This latest Rolls-Royce is a model of outstanding design and unrivalled luxury. Ghost Extended Wheelbase delivers all the poise and dynamism enjoyed by discerning Ghost owners, with the indulgent experience of an extended wheelbase car. It is the very best of both worlds.

"This is the first time we have undertaken a world launch of a Rolls-Royce car in China, underscoring the strategic significance of this market and the Asia Pacific region. We expect to build on last year's record growth, with further strong demand for Rolls-Royce models and a positive economic forecast throughout the region," he added.

Besides the Ghost EWB, Rolls Royce also brigs bespoke models to China:

Bespoke models showcased

A highly bespoke China Edition Ghost is displayed for the first time, showcasing the company's unique bespoke capabilities for the Chinese market. Featuring a stunning consort red interior, gold twin-coachlines, gold-plated Spirit of Ecstasy and stainless steel pinstripes, the model is available to order in limited quantities by discerning Chinese customers. Three exclusive paint colours (Deep Garnet, Black Ember and Infinity), silver and gold packages (e.g. specially plated Spirit of Ecstasy, coachlines, Rolls-Royce inlays) and a number of other features have been developed for the China market.

Also presented for the first time in the Asia Pacific region are two highly-bespoke Spirit of Ecstasy Centenary Collection models featuring a host of design details that celebrate 100 years of the world's most famous hood figurine. Specially commissioned for Auto Shanghai 2011, Phantom Extended Wheelbase Saloon is exhibited with a Rhapsody Black exterior and a sumptuous mix of Ardent Red and Seashell interior with Piano Black veneer. Also on the stand is a Phantom Drophead Coupé in Maiden Blue exterior, Navy Blue and seashell interior with Straight Grained Oak and Ebony.

Customers from China and the rest of the Asia Pacific region represent the largest proportion of buyers worldwide for Centenary Collection cars, of which only 100 limited edition models are being built. Demand for bespoke Phantom models is also among the highest in the world. Through the Rolls-Royce Bespoke programme, customers can tailor individual features to one-off accessories for their cars, all designed and developed in-house at the Rolls-Royce Headquarters and Manufacturing Plant at Goodwood in England.
---
Further Reading