---
Shelby American proclaimed that they will come up with their real 800 HP version of 2012 GT500 SuperSnake Mustang at the forthcoming New York International Auto Show.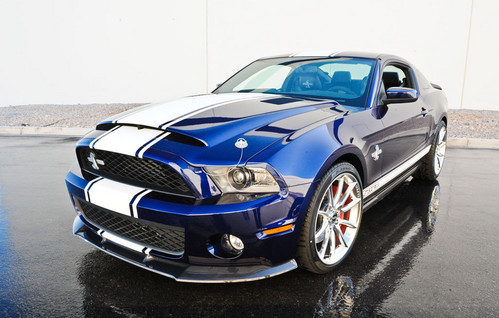 Previously, the same model was announced by the Shelby Americans with 650 and 750 HP versions of GT500, now they may have tried something newer to come up with in the New York International Auto Show. Interestingly, Shelby is featuring an online customizer as well where customers can build their Dream SuperSnake models and get it quoted with price. Seemingly, Shelby has introduced matte white and matte black stripes, behind the door side scoops and dark or bright paint job for the wheels.
Along with 800 HP GT500 SuperSnake version, Shelby will also bring its 2012 GT350 coupe and convertible at the New York International Auto Show.
With more horsepower, the 2012 Shelby GT500 Super Snake is a strong performer both on the road and the track," noted Gary Patterson, vice president of operations at Shelby American. "This Super Snake will deliver the driving experience that enthusiasts expect from the Shelby brand.
Certainly, the new package of SuperSnake from Shelby is worth praising as it is among the few vehicles that are capable of producing 800 HP and that too on pump gas. High performance vehicle are legal in 50 states of America and this gives an opportunity to the people to have an experience to drive one of the fast American legendary muscle cars. The Shelby SuperSnake package along with GT500 based vehicle is available for just under $100,000.
---
Further Reading