---
MG Cars is British's renowned former sports car manufacturer company which is known for its two-seat open sports car. But now the MG has brought something new out of its Birmingham pant in the form of a first customer car. They called it as a new era for MG.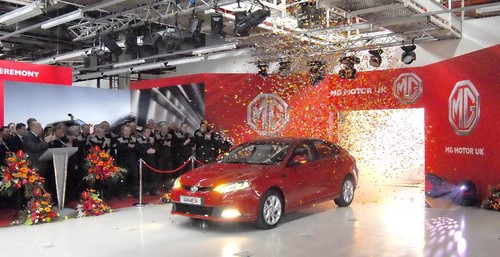 MG held a small ceremony to celebrate the first customer car at the assembly line in the Car Assembly Building at the manufacturing plant at MG Birmingham where some loyal MG fans were also present. It is not a sort of mega event; it was just get together of the people at car makers and the fans. MG has nothing much to say about this event except, "The car was driven off the line by Lisa Ponter, currently the only woman working on the production line."
If we have a closer look at the car, it is a fastback four-door car designed and engineered in United Kingdom. An attempt has been made to combine the traditional MG styling with the modern contemporary design. The car will be available in three trim models powered by 1.8-L turbocharged petrol MG6 engine with a price range of £15,495 to £18,995 for the top-of-the-range highly-equipped TSE model.
According to MG, the car has low insurance levels as the entry model MG6 S is rated 13E whereas both SE and TSE rated 14E. We wish MG the good luck in their efforts of revival and also hope that it will bring back its sporty models as well.
---
Further Reading