---
Vauxhall unleashed its new model of the gorgeous new Astra that comes with Start/Stop system that gives an impressive 62 mpg with CO2 emission of 119g/km.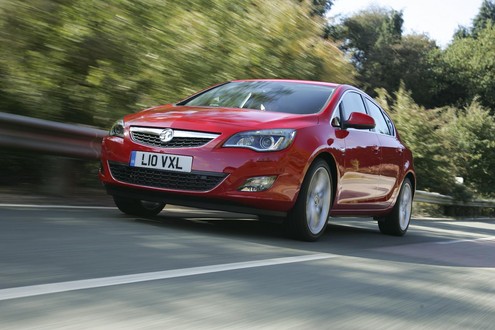 The performance and efficiency of the new Astra CDTi depends largely on the Start/Stop system for it enhances the fuel economy of the vehicle by more than 5 mpg or 13 percent on the combined cycle, from 57.6 mpg to 62.8 mpg. This start/stop system has also included some of the latest models of the Astra range such as the Sports Tourer that receives remarkable 4.7 mpg increase on the combined cycle, from 55.4 mpg to 60.1 mpg.
Apart from the start/stop system, these vehicles are also equipped with Vauxhall's CleanTech Combustion Technology that results in clean combustions and also lessen the engine noise.
As far as pricing of the car is concerned it is pretty much affordable as you need to pay very small amount of tax for it. The 5-door Hatch will cost you £22,410 for the Sri model. The Sports Tourer will cost you £23,430. It is worth noting that you can order for the 2.0 CDTi Start/Stop system in the SE and Elite Trims (Hatch) and SE (Soprts Tourer).
For those are still not aware of how the start/stop system actually works, have a look at following lines:
Start/Stop – Vauxhall's pain-free solution to lower-emissions motoring
Vauxhall's automatic Start/Stop system reduces the engine's time spent idling, and therefore the car's overall emissions and fuel consumption, especially during town driving. The engine automatically stops when the driver engages neutral and releases the clutch pedal, sending it into 'Autostop' mode. When the vehicle needs to move away again, the driver simply presses the clutch to re-start the engine and engages first gear.

For safety reasons, and for passenger comfort, the temperature regulator and brake booster vacuum control remain active in Autostop mode. And if circumstances require – for example, in start-stop traffic – the driver can manually deactivate the system using the 'eco' labelled Start/Stop switch.

In order for Start/Stop to function, certain criteria have to be met. The engine needs to be up to full operating temperature, and the battery needs to be sufficiently charged. The outside temperature also needs to be above freezing and the Defrost function not activated.

Apart from these parameters, the Start/Stop system includes the following ancillaries:

A more robust starter motor
A high performance battery, which ensures maximum reliability of the electrical system and the engine's capacity to start without delay
An intelligent battery control with sensor, providing reliability and consistent quality
An energy management system responsible for trouble-free re-starting of the engine.
---
Further Reading