---
The new Chevrolet has already won the Top Safety Pick Award but it's still starving for more. The new Chevrolet now wants to own the title of real 'playa' in the subcompact range.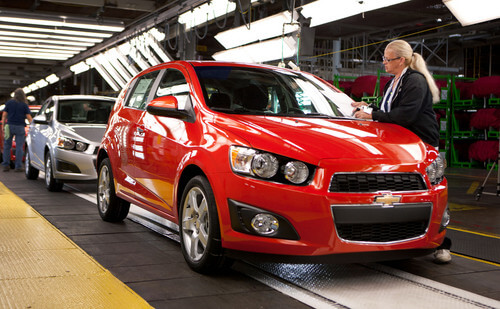 It is pre-requisite for the vehicles in this particular segment to have a good fuel economy along with an estimated EPA of 40 mpg on highway and 29 mpg in city. The new Sonic is well ahead in complying with these measures. To remind you again, it is all about 1.4-L model mated to a 6-speed manual gearbox.
With this engine, the car sprints from 0-60 mph in just 8.2 seconds. Certainly, good figures for this engine.
The 1.4-L Ecotec turbocharged engine used in Sonic is SAE certified and produces 138 horsepower (103 kW) and torque of about 148 lb-ft (200 Nm) at 2500-4900 rpm. There is also a bigger engine available that is equally economical, 1.8-L. With 1.8-L engine, Sonic achieves a fuel economy of 26 mpg in city and 35 mpg on highway. The automatic version receives 25 mpg in city and 35 mpg highway.
Some of the major features of 1.4-L engine are:
Chain-driven cams
Dual overhead camshafts with continuously variable valve timing
Electronically controlled thermostat
Low-mass hollow-frame cast iron block
Piston-cooling oil jets and integrated oil cooler
Roller-finger camshaft followers
Variable-flow oil pump
---
Related Posts